generate mainly green energy at the cold season to supply our households with electricity and heat.
operate almost without maintenance.
can easily combine with heating pumps for an efficient local energy supply.
are available in various different forms: Basically the efficiency for green electricity production increases with a lower number of rotor blades.
Technical data of our wind-turbine at Obergrafendorf in Austria:
Rotor diameter: 4,4m Masthöhe: 13m
Tip speed ratio: 11 Coefficient of power: 0,38
Electronic limitation of rotor speed at a wind speed of 7m/s
Noise level in a distance of 10m: <48dB
Annual energy output (at an average wind speed of 3,7m/s): around 1.900kWh
Construction costs (2011): 16.000€
Operational control: optically and acoustically
Maintenance effort: annual inspection of components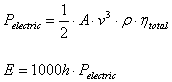 The electrical power of a wind turbine can be calculated with rotor area, wind speed and the total efficiency factor. A well dimensioned small wind turbine for the local wind condition can reach about 1000 equivalent full load hours per year. So the annual working capacity is given by the electrical power and the equivalent full load hours.
We will support you with consulting and planning and during project realisation.