GRAVITATION WATER VORTEX POWER PLANT
ZOTLÖTERER-TURBINE
is an efficiency-optimized turbine for gravitational water vortex power plants (GWVPPs).
can be realised according to the desired generator concept (with or without gearbox or for isolated or mains parallel operation) as: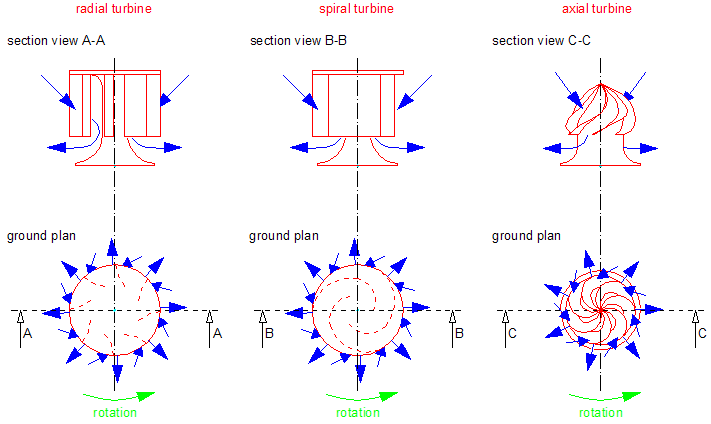 The gravitational water vortex of a GWVPP concentrates the rotational energy independently on the Zotlöterer-turbine without guide apparatus or nozzles. In contrast to conventional turbine systems, when migrating upstream through a GWVPP, fish do not have to pass through a rapidly rotating turbine and immediately afterwards a stationary guide apparatus. Thus the turbulences within the water flow remain low due to the relatively slow build-up of the necessary vortex flow above the turbine and fish can migrate purposefully upstream through the GWVPP without losing their orientation. In addition, the Zotlöterer-turbine does not pose any danger to fish due to its low speed.
In both designs, the Zotlöterer-turbine offers a comparatively simple and extremely robust turbine concept that achieves up to 80% turbine efficiency at low heads of 0,7 to 3m:
The overall efficiency of a GWVPP depends on the turbine, the geometry of the rotation tank, the possibly required gearbox, the generator and possibly required inverter electronics.
The power range of a GWVPP with Zotlöterer-turbine is from 0.2 to about 500kW.
We are at your disposal for consulting, planning and project implementation.